Chiropractic Treatment in New Bern, NC

Our Doctor
Dr. Flemming graduated in 1989 from Palmer College of Chiropractic-West in San Jose, California. She is originally from a small town in New Jersey and practiced in Johnstown, Pennsylvania before moving to New Bern in 1992. In addition to being certified in Activator Method and Acupuncture, Dr. Flemming also has a strong background in Nutrition and attends numerous educational seminars throughout the year in order to stay abreast with the latest health research and technique.
Our Office
When you come to our office, you are always greeted with friendly smiles and helpful attitudes.
We use state-of-the-art technology and adjustment techniques to make sure your visits are comfortable and effective. Both the doctor and staff attend educational seminars regularly throughout the year to keep abreast of the latest health research and technique.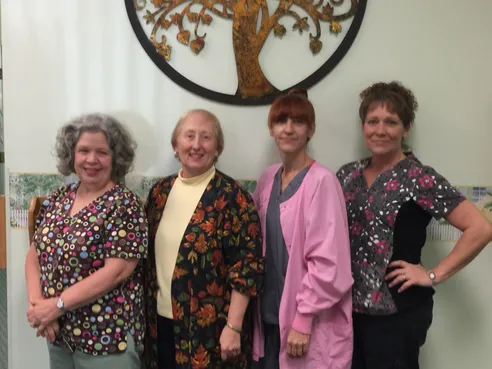 For those nervous about the 'crack and pop', Dr. Flemming uses the Activator, the ArthroStim Adjustor, the Percussor, and other adjusting instruments. These revolutionary instruments are helping thousands of people get out of pain safely and comfortably without any dangerous side-effects and without having the bones of your spine 'twisted and popped'. Utilizing Activator Method, Dr. Flemming is extremely successful in finding and correcting the locked spinal joints (subluxations) that cause health problems
Our treatment protocol may also include physiotherapy, exercise and weight-loss programs, and nutritional recommendations.
Because your bones are surrounded and supported by soft tissue, the state of these tissues determines the speed and quality of your healing.
Appropriate nutritional support will feed essential tissues, speeding healing and preventing the return of your current unhealthy condition.
These advanced techniques make chiropractic care safe and effective for everyone: families including children and babies, seniors, weekend athletes, those with disc problems or prior spinal surgery, and, of course, anyone just wanting to feel their best.
More Than Pain
Did you know chiropractic care is for more than joint pain? Chiropractic care helps with headaches, sciatica, fatique, fibromyalgia, carpal tunnel syndrome, tendinitis and bursitis, IBS, heartburn and GERD, ADD/ADHD, colic, bedwetting, ear infections, asthma, malaise, and many more conditions.
Have Questions? Feel free to call us for more information at (252) 638-6062.